Back to Nassief Protection Programs
GAP INSURANCE

Do you have Full Coverage Protection on your current vehicle purchase?

Did you finance more than 70% of your vehicle's MSRP?
Did you have to finance any negative equity from your trade in?
Did you finance your taxes?


If you can answer "YES" to any of these questions then you do not have complete full coverage protection!!!!
Also, when considering LEASING you need to inquire whether the finance company you are leasing thru provides GAP or whether you have to provide in on your own by financing the GAP in with your payment.

In the event of a total loss, your current auto insurance policy is only obligated to pay you the current actual cash value for your vehicle not the amount that you currently have left on your loan.

Guaranteed automobile protection (GAP) will allow you to have complete assurance!!!! If your vehicle is said to be a "TOTAL LOSS" whether the accident is your fault or that of someone else, GAP helps take care of the difference between what your insurance company pays and the remainder of the balance of your current loan.

Do yourself a favor and protect yourself with GAP!!!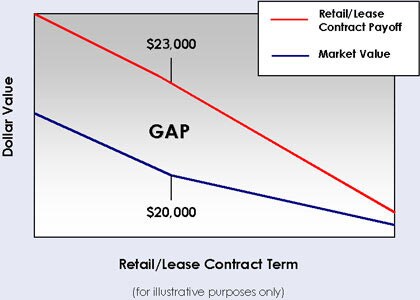 *The above example was just for illustration purposes only. In situations (such as past due payment, deferred payments, interest charges, delayed insurance settlements, or other limitations) Guaranteed Automobile Protections may not take care of the entire GAP. GAP programs may vary by state.