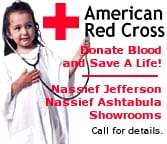 Thank you for stopping by, and thank you for your interest. Donating blood does save lives!
Both Nassief Automotive dealerships are proud to be hosting bi-annual Blood Drives on site since 2001. Each donation saves up to 3 lives! Thank you to our co-workers and all who continue to make each event such a success!
To inquire for upcoming dates for Nassief Automotive or any host facility, please contact our local American Red Cross at (440) 998-1020.